Description

Specification

Activation Details
Details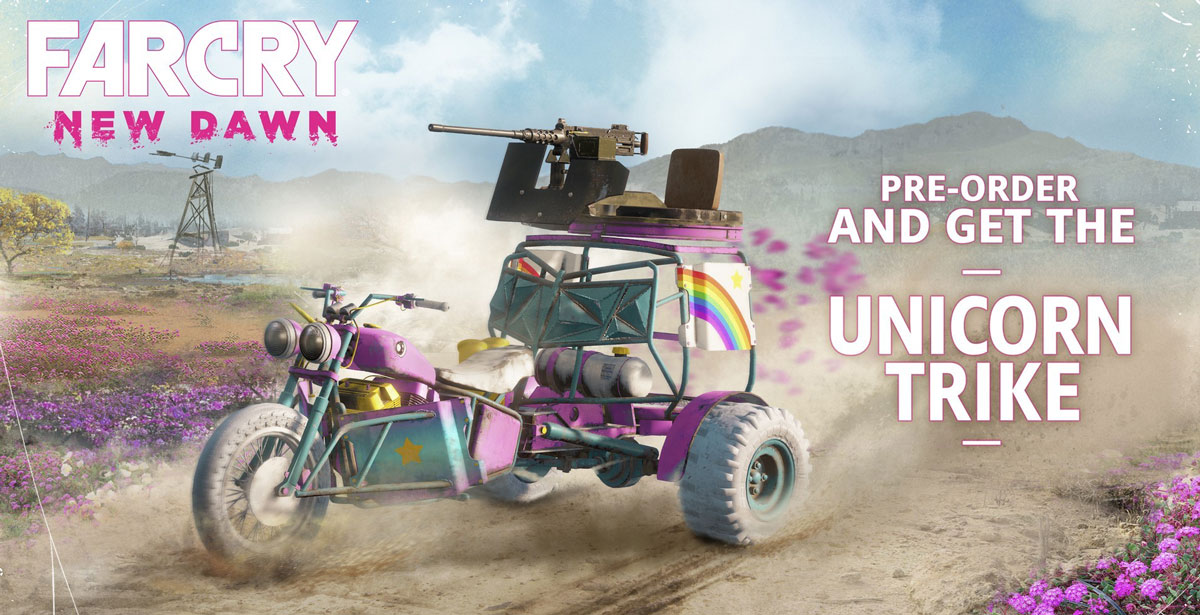 Preorder to get the Unicorn Trike skin Dive into a transformed vibrant post-apocalyptic Hope County, Montana, 17 years after a global nuclear catastrophe. Join fellow survivors and lead the fight against the dangerous new threat the Highwaymen, and their ruthless leaders The Twins, as they seek to take over the last remaining resources.

FIGHT FOR SURVIVAL IN A POST-APOCALYPTIC WORLD
Take up arms on your own or with a friend in two player co-op in an unpredictable and transformed world
COLLIDE AGAINST TWO ALL NEW VILLAINS
Recruit an eclectic cast of Guns and Fangs for Hire and form alliances to fight by your side against the Highwaymen's unruly leaders The Twins
BUILD UP YOUR HOMEBASE AND THE SURVIVORS
Recruit Specialists to upgrade your homebase, who will help unlock all new features including crafting weapons, gear and more
BATTLE FOR RESOURCES IN HOPE COUNTY AND BEYOND
Engage the Highwaymen in TurfWars and venture on Expeditions to memorable locations across the USA
---
© 2019 Ubisoft Entertainment. All Rights Reserved. Far Cry, Ubisoft, and the Ubisoft logo are trademarks of Ubisoft Entertainment in the US and/or other countries. Based on Crytek's original Far Cry directed by Cevat Yerli. Powered by Crytek's technology "CryEngine."
Additional Information
Product Limitations
Platform
Uplay
Publisher
Ubisoft
Requirements

Uplay account required for game activation and installation

MINIMUM CONFIGURATION:
OPERATING SYSTEM: Windows 7 SP1, Windows 8.1, Windows 10 (64bit versions only)
PROCESSOR: Intel Core i5 2400 @ 3.1 GHz or AMD FX 6350 @ 3.9 GHz
RAM: 8GB
VIDEO CARD: NVIDIA GeForce GTX 670 (2GB) or AMD Radeon R9 270X (2GB) or better
RESOLUTION: 720p
VIDEO PRESET: Low
DIRECTX: DirectX June2010 Redistributable
SOUND: DirectX 9.0c compatible sound card with latest drivers
HARD DRIVE: 30 GB available space
PERIPHERALS: Windows-compatible keyboard, mouse, headset

RECOMMENDED CONFIGURATION:
OPERATING SYSTEM: Windows 7 SP1, Windows 8.1, Windows 10 (64bit versions only)
PROCESSOR: Intel Core i7-4790 @ 3.6 GHz or AMD Ryzen 5 1600 @ 3.2 GHz
RAM: 8GB
VIDEO CARD: NVIDIA GeForce GTX 970 (4GB) or AMD Radeon R9 290X (4GB) or better
RESOLUTION: 1080p
VIDEO PRESET: High
DIRECTX: DirectX June2010 Redistributable
SOUND: DirectX 9.0c compatible sound card with latest drivers
HARD DRIVE: 30 GB available space
PERIPHERALS: Windows-compatible keyboard, mouse, headset
Uplay Direct Activation Details
A Ubisoft/Uplay Account is needed in order to activate the product.
1. Go to your Order from your 2Game account.
2. Click the "Connect to Ubisoft" button inside the completed Order.
3. A Pop-up window will prompt a Ubisoft Account login. Enter your Uplay Account Details and close the window without logging out.
4. Choose "Activate on (name) Ubisoft Account" option to activate the game on the desired Ubisoft account.
You can choose "Change Ubisoft Account" to switch to another account, if needed.
From now on when accessing this order you will see an "Activated on Ubisoft Account." message.
Now you are ready 2 Game ;)